Small farms produce, preserve healthy local food in Doña Ana County

FEATURED

Small farms produce, preserve healthy local food in Doña Ana County
Overview
Rural New Mexico encompasses unique places with rich cultural diversity, beautiful landscapes, forward-thinking leaders and residents, and abundant opportunity for innovation.
Most counties included in our RPN Community Networks have lost population in recent years, putting additional cost burden on residents to maintain public services. Despite outmigration, we have seen rural job gains in construction, accommodation and food services, information, and agriculture.
Our Rural Partners Network team and Rural Desk Officers from the 20 federal departments and commissions are collaborating with New Mexico's rural leaders to address local priorities, such as developing and recruiting a skilled workforce, building up our infrastructure, capitalizing on the outdoor recreation economy, and recovering from and building resilience to natural disasters including the recent devastating wildfires causing heavy flooding and debris flow.
Community Networks in New Mexico
Counties of Doña Ana County.

Counties of Catron, Grant, Hidalgo, Luna.

Counties of San Miguel, Taos, Mora, Colfax.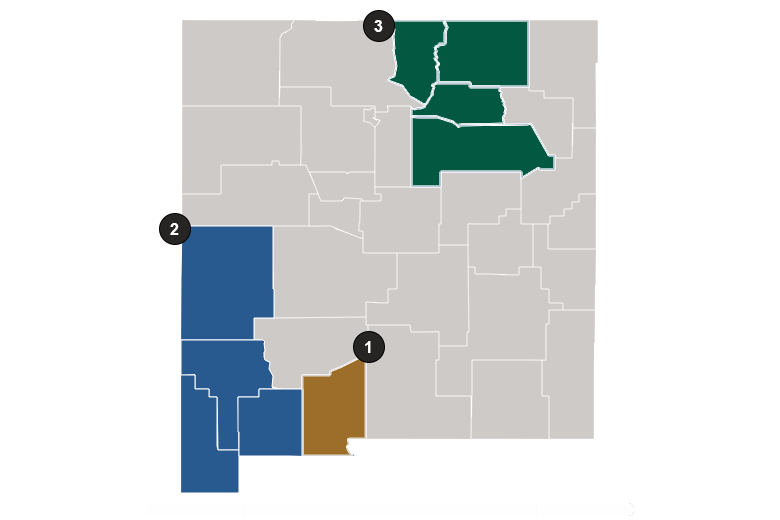 Rural Partner Network Contacts for New Mexico
USDA Rural Development State Director

Supervisory Community Liaison
State and Regional Partners
New Mexico Economic Development Department
Rural Community Assistance Corporation
Rural Local Initiatives Support Corporation
North East Economic Development Organization Inc.
New Mexico Mortgage Finance Authority
New Mexico Workforce Solutions