U.S. Education Secretary Cardona visits eastern Kentucky to promote new grants, early career education

FEATURED

U.S. Education Secretary Cardona visits eastern Kentucky to promote new grants, early career education
Overview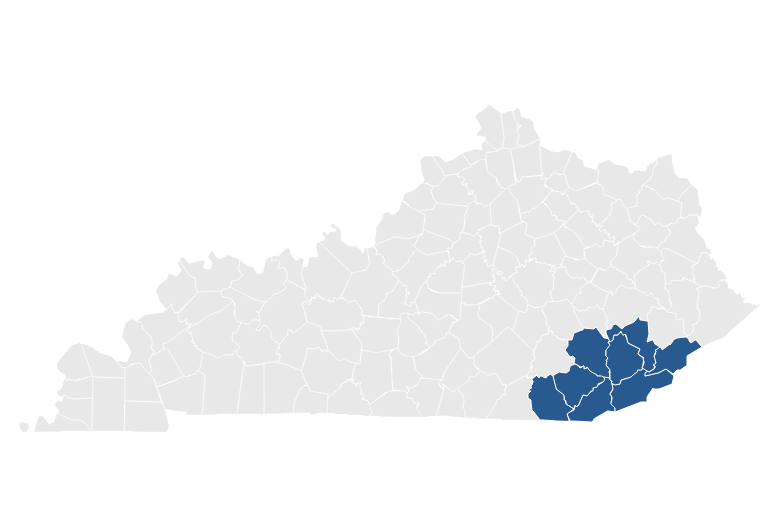 View Demographic Profile
The footprint of the Kentucky Highlands Community Network encompasses the heart of eastern Kentucky. The work in Rural Partners Network builds on the eight years of collective impact, placemaking work in Bell, Clay, Harlan, Knox, Leslie, Letcher, Perry, and Whitley Counties through the Kentucky Promise Zone. The terrain and the people of the region are intertwined in a rich tapestry of cultural and natural resources. The land is a rugged, mountainous area that is covered by forests and rolling mountain streams. The region has a long history of providing the coal resources that fueled the industrial revolution's need for power and steel production. The communities that wind up and down mountains and alongside streams and rivers were planted in direct connection to the coal mining industry. The area drew a wide variety of settlers into the mountains to create a rich cultural melting-pot of music, food and traditions that are unique to the Appalachian mountains.
The coal industry has declined in production in the region since the 1980s, which has resulted in increasingly negative economic impacts. The coal economy did not produce a lasting economic prosperity for communities. The 2020 census shows a population decline for these eight counties of over 10,000, disrupting property values, tax bases, and community stability. The Kentucky Promise Zone has identified over a billion dollars of investment announced for these counties, but that falls short of the billion dollars a year lost in direct and indirect coal mining jobs. The tenacity of the leaders in the region is unsurpassed. The region is vested with non-profit entities and local governments who are committed to garnering bold investments and have tenacious commitment for restorative economic strategies. These communities are committed to community-driven solutions that can bolster policy development for the area and bring much needed resources to the region.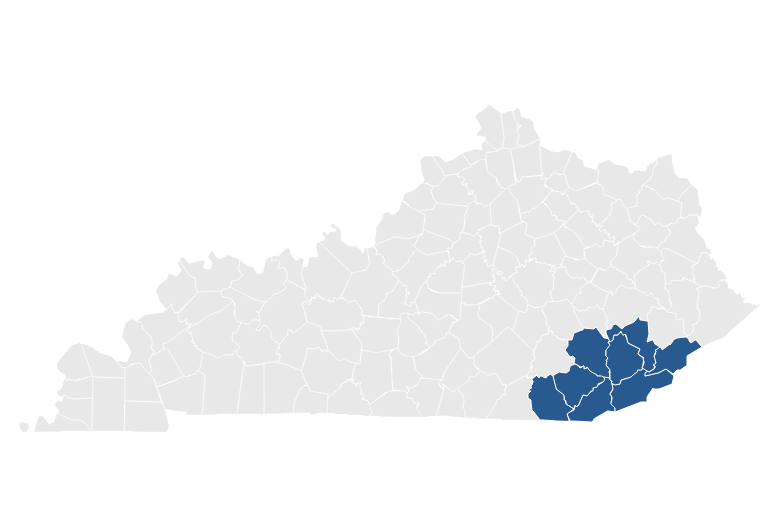 View Demographic Profile
Priorities
Affordable Housing

Disaster related repair
Single-family housing
Multi-family housing
Low- and very-low-income housing assistance
Repairs for elderly and disabled homeowners

Infrastructure

Watershed infrastructure
Major roadway development for industry access
Water and wastewater system restoration

Broadband Connectivity

Connectivity for remote work
Connectivity for higher education
Connectivity for primary and secondary education

Economic Diversification

Recreation economies for rural communities
Agricultural economic investment
Manufacturing investment

Rural Healthcare

Telemedicine access
Specialty care in rural communities
Care for women's services and pediatric care that is accessible
Prescription assistance for elderly and disabled individuals

Workforce Development

Support for local businesses
Training programs for displaced workers
Vocational rehabilitation
STEM development for schools
Rural Partners Network Contacts for Kentucky Highlands
Host Entity
Kentucky Highlands Investment Corporation
Sandi Curd, Ph.D
Partners
Advantage Kentucky Alliance
Appalachian Regional Healthcare
Bell Whitley Community Action Agency
Berea College- Brushy Fork Institute
Buckhorn Children and Family Services
Center for Rural Development
Partners for Rural Impact
Christian Appalachian Project
Housing Development Alliance, Inc.
Cumberland Valley Area Development District
Daniel Boone Community Action Agency
LKLP Community Action Agency
Foundation for Appalachian Kentucky
Grace Community Healthcare
Harlan Community Action Agency
Hazard Community and Technical College
Hindman Settlement School
Pine Mtn Settlement School
KCEOC Community Action Agency
Kentucky Office of Rural Health
Kentucky Mountain Housing Development
Kentucky River Community Care
Mountain Comprehensive Healthcare
UK Center of Excellence in Rural Health
Southeast Kentucky Economic Development Corporation
The Center for Rural Strategies
Kentucky Educational Development Corporation
UK Cooperative Extension Service
What's Next East Kentucky Prosper Appalachia