'It's clear that Eastern Kentucky is full of resilient people': USDA Under Secretary for Rural Development visits Isom IGA

FEATURED

'It's clear that Eastern Kentucky is full of resilient people': USDA Under Secretary for Rural Development visits Isom IGA
Overview
Rural Kentucky is home to some of the proudest, most resilient people. Unfortunately, it has also been deeply impacted by the outflow of good jobs, especially the coal industry. These difficult and dangerous jobs paid well and supported families for generations.
Our Community Networks comprise smart, driven, forward-thinking leaders who know the way to prosperity is paved through partnership. Some priorities are common between our Community Networks. Issues like affordable housing and workforce development seem to be universal across rural America. While they have commonalities, our Community Networks are vastly different in resources.
The vision for each Community Network is as individual as it is bold, and Rural Development Kentucky's State Director and Community Liaisons are committed to helping each network fulfill their vision.
Community Networks in Kentucky
Counties of Fulton, Hickman, Cayce, South Fulton, Tennessee.

Counties of Bell, Perry, Harlan, Leslie, Letcher, Whitley, Knox, Clay.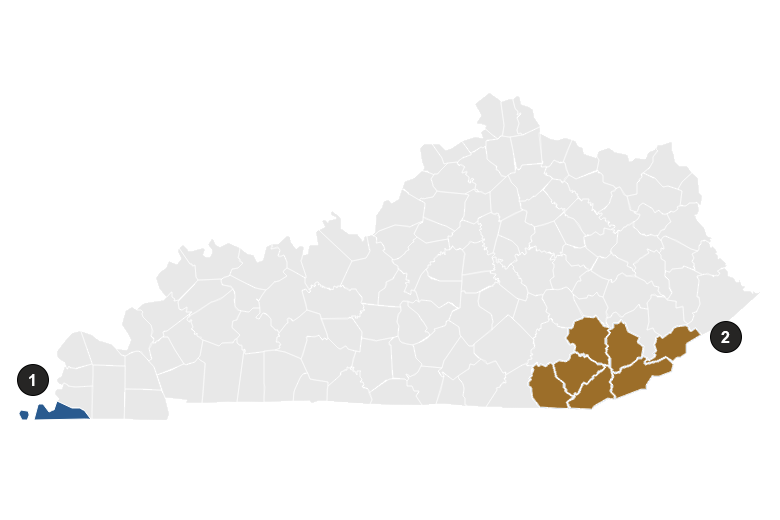 Rural Partner Network Contacts for Kentucky
State and Regional Partners
Kentucky Department for Local Government
Kentucky Housing Corporation
The Center for Rural Strategies
Kentucky Highlands Investment Corporation
Housing Development Alliance
Appalachian Regional Commission
East Kentucky Concentrated Employment Program