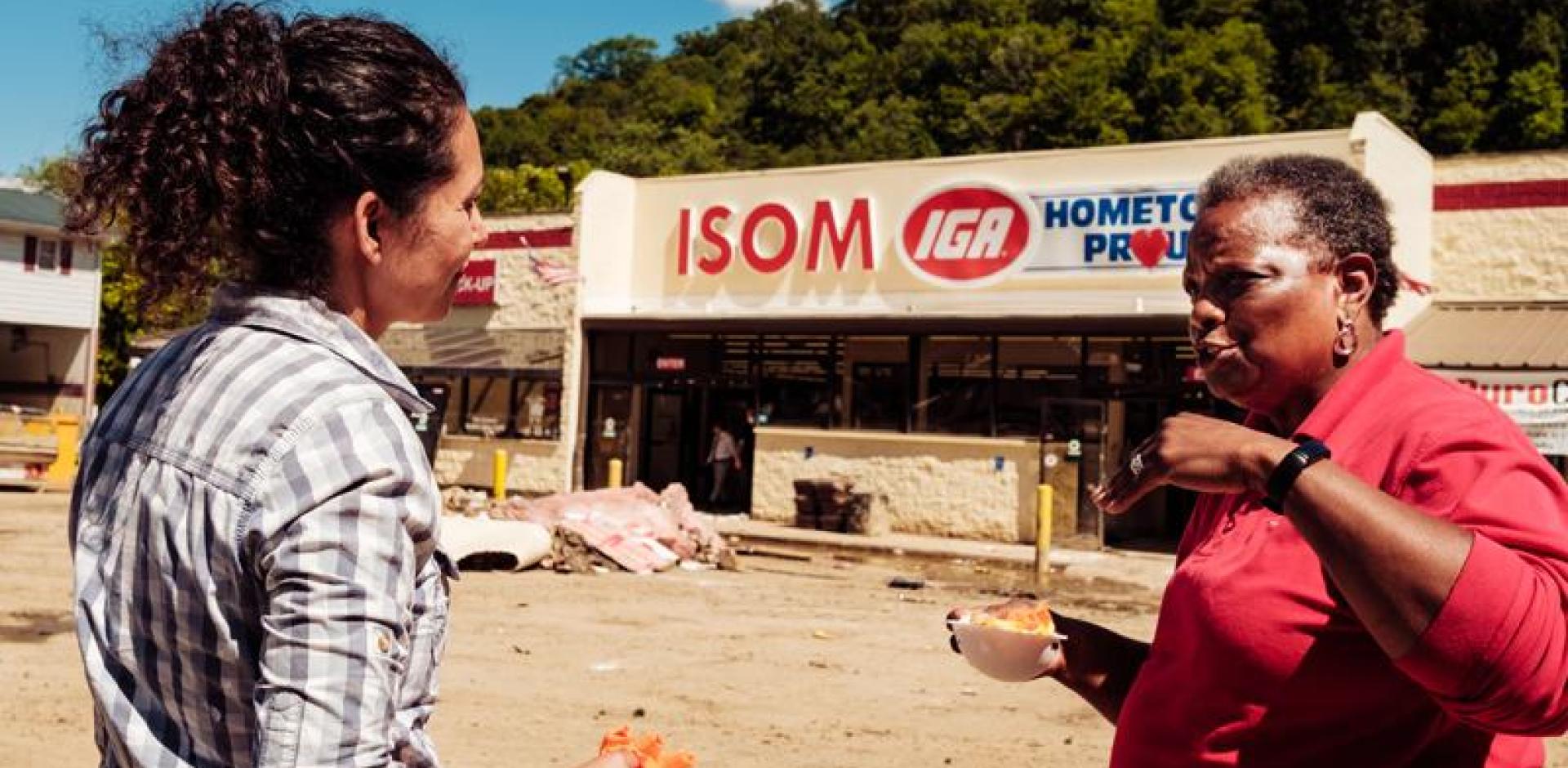 By RPN Staff
When President Biden and US Department of Agriculture Secretary Vilsack announced the Rural Partners Network (RPN) in April 2022, it was unlikely they could have predicted how quickly that network would become a necessary lifeline to the communities it serves.
RPN was established to improve how the federal government serves rural communities that traditionally face challenges accessing government programs and resources. Through RPN, USDA has placed staff on the ground in 36 communities across the country to be the front door to federal resources.
One of those networks is in southeastern Kentucky, an area where generational poverty and the lack of adequate, affordable housing have long presented challenges. And these challenges were only exacerbated last summer when the area experienced historic flooding that destroyed thousands of homes, critical infrastructure, and small businesses, and took the lives of more than 40 Kentuckians.
Within days, President Biden quickly issued a Presidential Disaster Declaration for the region and thousands of people began the long process of rebuilding. As the recovery effort was underway, it became clear that USDA and other federal agencies would have to find ways to leverage their collective resources to support the resilient people of Appalachia as they rebuilt their homes, businesses, and lives.
Thankfully, USDA already had staff on the ground in the form of the Rural Partners Network Community Liaisons who immediately sprang into action in the aftermath of the flooding. They worked with local governments, nonprofit housing organizations, school districts, and Federal Emergency Management Agency (FEMA) to set up community distribution centers in the four counties that experienced the most devastation. Through these centers, RPN staff and partners were able to offer hope, access to recovery resources, and information on long-term recovery solutions.
As the focus of recovery shifted from immediate needs to long-term planning, Rachel Chambers, Rural Partners Network Community Liaison for the Kentucky Highlands Community Network, served as an advisor to the federal Interagency Recover Coordination team that analyzed impacts, recovery activities, and funding available to address specific needs. Along with USDA's Single Family Housing staff, Rachel and RPN team members joined long-term recovery efforts and shared information with hundreds of disaster-impacted people about USDA's Section 502 home loan and Section 504 home repair programs. In fact, FEMA helped refer more than 700 households to USDA and its home repair program.
It became obvious that the home repair program had limitations that would not be an effective tool for families facing tens of thousands of dollars in home repairs. So, the RPN community sprang into action! By listening to families at the community distribution centers and through discussions with state and local leaders, RPN staff saw quickly that USDA could make its home repair program work better for the people who needed it the most. Typically, the largest grant available under USDA's home repair program was $10,000, an amount nowhere near enough to cover the costs facing many of these families. USDA staff met with families who had to replace their heating and air units, porches, floors, windows and roofs. If their homes weren't completely swept away, many faced going home to a place that had more than four feet of water inside.
The Rural Partners Network team lifted up this challenge to USDA leadership and as a result, USDA adapted. USDA explored all options and discovered it could use disaster-related authorities to increase the maximum home repair grant amount from $10,000 to $35,000, which would help families recover and build back better and faster. Just as important, it would give them peace of mind.
This change to USDA's home repair program stemmed from being connected to communities through the Rural Partners Network Community Liaisons who had a direct line to the national USDA office and who communicated the urgent needs of this Kentucky community. Through this effort, USDA saw that other communities facing similar challenges could benefit from this policy change as well. As a result, USDA has applied the limit-increase in home repair grants to other presidentially declared disaster areas. This change will improve access for rural communities to much needed federal resources and is already helping people affected by floods and wildfires in New Mexico and hurricanes in Puerto Rico.
This is the Rural Partners Network in action: collaborating directly with communities to help them identify federal resources and removing barriers to those resources to build brighter futures, no matter their backgrounds or current circumstances, and then applying best practices to the benefit of all rural communities. And it all starts with listening to each community's voice to understand their needs and respond to unique and challenging scenarios.
Through Rural Partners Network, this Administration is making it easier for rural communities to reach federal staff who are living and working alongside the people they're serving, providing more flexibility and capacity to respond to each community's needs.
Disaster Relief
Disaster Resilience
Economic & Business Development